NEWS
埃德加·布莱恩(Edgar Bryan)
偏执复调布鲁斯Paranoid Counterpoint Blues
July 17 - September 15, 2019
2019年7月11日至8月31日
Grifter is pleased to announce its inaugural exhibition, Edgar Bryan's Paranoid Counterpoint Blues, opening Wednesday July 17th, 6-8pm.
Grifter画廊欣然呈现开幕首展埃德加·布莱恩个展"偏执复调布鲁斯"。画廊将于七月十一日周四晚上6点至8点举办开幕酒会。
In 2001, I made a painting of the books on my coffee table. They were stacked up in a chaotic fashion, some were open and some closed—others, such as paperback novels were used as bookmarks in larger books.
2001年的时候我创作了一幅表现我茶几上书本的画。这些书的堆积方式有一些混乱,有一些是打开的,有一些是合上的;还有一些别的书,比如平装本的小说,则被当做大型书籍的书签使用。
Among the clutter was Charles Ray's monograph for his '95 exhibition at MOCA, Los Angeles. It lay open to a photograph where he had wedged himself against a wall, upside down and pinned at the legs by a large wooden plank. This funny picture and others like it have the kind of embarrassing vulnerability that I aspire to in my own work.
这堆乱七八糟的东西中有一份查尔斯·瑞(Charles Ray)为他1995年在洛杉矶当代美术馆做的展览而写的专刊。这本专刊正好翻在一张照片页上。照片中的他把自己头朝下地卡在墙上,腿支撑在木头支架上。这张有趣的照片和别的类似作品中表现的那种尴尬的脆弱感是我自身作品的灵感来源。
Another book on the table, Gödel, Escher, Bach, was a thick volume about mathematical principles in music and art. Not until years later would I read it—not until I had learned to read music pretty decently and play piano kind of poorly.
茶几上的另一本厚厚的书《哥德尔、埃舍尔、巴赫》探讨了音乐和艺术中的数学原理。直到几年之后我才读了这本书,那个时候的我已经可以像样地理解音乐并且可以稍微摆弄一点钢琴。
My new paintings are in part about Gödel, Escher, Bach and the circular logic it describes. They are also portraits of myself as a pianist and a painter, and of course, they are still-life paintings with yet again more books.
我的新作品中的一部分是关于《哥德尔、埃舍尔、巴赫》和书中所描述的环形逻辑。这些新作品是我作为一个钢琴家和画家的自画像,当然也是—又一次—与更多的书有关的静物画。
Edgar Bryan is a painter and bookmaker based in Los Angeles, CA. Recent exhibitions include; Welcome to the Dollhouse at MOCA, Los Angeles; Soft Corners at Telles Fine Arts, Los Angeles; Almost Rad, a public mural for MOCAD Detroit; and Sea Creatures, a solo exhibition at Reyes/Finn in Detroit.
埃德加·布莱恩(Edgar Bryan)是一位居住在加州洛杉矶的画家、著作家。他的近期展览包括洛杉矶美术馆的Welcome to the Dollhouse、洛杉矶Telles Fine Arts画廊的Soft Corners、为底特律当代美术馆制作的名为Almost Rad的公共壁画以及底特律Reyes/Finn画廊举办的个展Sea Creatures。

Grifter is an artist run space located at 75 East Broadway, unit #221
捣蛋鬼是一个由艺术家运作的画廊,我们的地址是75 East Broadway, Unit #221。
GO AWAY ROAD
Alicia Gibson
Brook Hsu
Quintessa Matranga
Jordan Nassar
Maija Peeples-Bright
Clayton Schiff
Alake Shilling
Rachel Eulena Williams
Zadie Xa
March 28–May 4, 2019

Curated by Adrianne Rubenstein

Welcome to the opening reception Thursday March 28, 6–8 pm
Go Away Road is a wrong turn in Northern California that you come upon after being betrayed by your GPS. It's a dirt road belonging to a house that is faded and rusty, broken vehicles blocking the road and a deer peeking out of the woods. It's a place people went to embrace the earth, but they changed.

Go Away Road brings together nine artists: Maija Peeples-Bright, Alicia Gibson, Brook Hsu, Quintessa Matranga, Jordan Nassar, Clayton Schiff, Alake Shilling, Rachel Eulena Williams and Zadie Xa, each of whom make a study of nature and the self, emphasizing its cumulative aspects as well as its broken parts.

The works bring about the power of metamorphosis, decomposition, and the immutable. Stars, rocks and waves, scratched upon as if with magic marker, a story told in too much detail, a single orange growing on a tree.

—Adrianne Rubenstein, 2019

A catalogue with essay by Adrianne Rubenstein will be published for the exhibition.
Margot Bergman
Cabin Boy, Auntie Gladyce and Three More
January 19th - March 2nd
Organized by Adrianne Rubenstein

Sigfrids / Howard's is pleased to announce "Cabin Boy, Auntie Gladyce and Three More" an exhibition of paintings by Chicago based artist Margot Bergman created between the years 2002-2012. The show will open with a reception on Saturday, January 19th from 4-6 PM and will remain on view through March 2nd.
Bergman's paintings from this time period are created on thrift store canvases, her brushwork mixed together with the found imagery creating dreamlike apparitions of the human form. The double authorship invites an easter-egg-like experience for the viewer which feels uncanny and sentimental. One sympathizes with the worthless and forgotten artifact but it acts here as a centrifugal force over which Bergman's flower grows. Eyes, lips and a silhouette disguise and destroy the preexisting painting. Clearly defined features are body parts and point to the corporeal yet their indication feels slight, like layers of makeup or the masking of a photograph.
Bergman acts in transgression of the original, creating another truer original which is also a container for the past. The paintings remind you of the forbidden aspects of drawing, furtive marks done in secret or where they are not supposed be. In "Cabin Boy" Bergman paints a flat round face in profile using the sunny blue sky to humor the background and foreground simultaneously. One eye with blue shadow over its lid and a perfectly modeled eyebrow float expansively above a dreamy looking domestic cabin encircled by freshly planted trees. Red lips are outlined over a slightly darker green shrub. The portrait is enclosed by two large trees crowning and a patch of sandy road is a shoulder or shirt.
"Lulu", "Beth Jo" and "Auntie Gladyce" are portraits painted atop other portraits. Little squinched faces peer out from between the eyes of the subjects, a single nose at the center anchoring all the unfolding features. The outer eyes appear to be tired as if from witnessing so much disintegration. In "Untitled (Flower Vase Portrait)" a potted plant has bloomed two shining eyes and a leaf with a smile. Bergman's paintings are satisfying because they breach the protocol like a tear in the sky. They sit with you like candy stored in cheek, letting light enter their fallibility and making us feel better about our endeavor to categorize the sun and moon.
Margot Bergman (b. 1934) has been an active member of the Chicago art scene since the 1950s. Recent exhibitions include 'Thank You for Having Me' at Corbett vs. Dempsey, Chicago; 'Body Doubles' at the Museum of Contemporary Art, Chicago; and 'Margot Bergman', Anton Kern Gallery, New York, NY. Bergman will be the subject of forthcoming exhibitions at the Museum Langmatt in Baden Switzerland and the Folkwang Museum in Essen Germany. A substantial hardcover catalog will be published concordantly with Hatje Cantz.
Adrianne Rubenstein (b. 1983, Montreal) is an artist and curator based in New York City. She received her BFA from the Nova Scotia College of Art and Design and her MFA from the San Francisco Art Institute. Curatorial projects include 'Fort Greene' at Venus, Los Angeles and 'Geranium' at Stems Gallery, Brussels. Solo exhibitions include 'I Love Worms' at The Pit, Los Angeles, and 'The Forest Floor' at Cooper Cole, Toronto. Rubenstein has been the Director at CANADA, New York, since 2014.
With special thanks to Margot Bergman and Corbett vs. Dempsey.
Sigfrids/Howard's
119 North Jackson Street
Athens, GA 30601
Beaded Talisman for Unwell Daughter
Annelie McKenzie
December 15 2018 – February 3, 2019
Opening Reception Saturday December 15, 2018, 6 – 9pm
Fisher Parrish is pleased to present Beaded Talisman for Unwell Daughter, a solo exhibition of new works by Los Angeles based artist Annelie McKenzie, organized by artist and curator Adrianne Rubenstein.
Works - link
A path exists among these works that beckons to the history I actually want to be a part of. The appropriation is utterly appropriate. The tableaux themselves are like vignettes from within a story, and let's say that book is a bit archaic, and the scenes feel as if you're discovering them by candlelight. You were sleeping in a dimly lit auditorium, spiderwebs accumulating along the ceiling; there was a brief discussion of female artists.
Beaded Talisman for Unwell Daughter is a painting of a woman jaundiced from illness, her face a donut slathered in custard creme—a detailed prop among frilly blankets. The subject of the work is Anna Alma Tadema, a British artist from a family of artists, born in 1867 and deceased in poverty and obscurity in 1943. Tadema is remembered as a subject from within her more famous father's paintings, although he died forgotten and penniless too. The basis for McKenzie's painting is an exquisitely detailed self-portrait, a watercolor which somehow survived, and a cryptic memento—a finite collapsing of past and present.
McKenzie's work is brazen and brash and addresses its subject obliquely, informatively. She is a detective, but isn't cool or slick about it. Her works are painted on purses and cocktail pouches, the likes of which may have held lipsticks and tranquilizers. Among sequences of pastoral bliss, not that those are ever quite what they seem, McKenzie addresses paintings so historic that one can recognize them by the heft of their weaponry. Her version of Artemesia Gentileschi's 'Jael and Sisera', painted in pinks on a cream colored clutch, features bodies with marbleized flesh and a chemically hued background of tinted crimson. The sequins feel like a botched version of pointillism, swapping exactitude for a quality of faded and stained lace. Tiny ersatz pearls line the scalloped exterior of the bag, framing the piece while camouflaging its zipper.
The concept of purse as canvas stems from the artist's observation that men don't really like purses and so, it's a witching spell that jokingly tells them to stay away. Gravely but with glee, McKenzie describes a history that has been abbreviated through misappropriation and a general lack of attention. Do you know that meme that says 'We riot at midnight' hidden in the body of a text about eyeliner? McKenzie's paintings are a tribute to a great many such riots, inviting us to experience the joy and fascination of telling one's story through the channels of the past.
– Adrianne Rubenstein, November 27, 2018
Please join us for the opening reception of Beaded Talisman for Unwell Daughter on Saturday, December 15th, 2018 from 6 – 9pm. Regular gallery hours are Saturday and Sunday 1 – 6pm or by appointment. For further information, please email Zoe Fisher at info@fisherparrish.com.
Annelie McKenzie (b. 1974, Montreal) earned an MFA from California State University, Long Beach, in 2013, and a BFA from the University of Calgary in 1997. She has exhibited at Contemporary Calgary (Canada), CB1 Gallery (LA), Torrance Art Museum (CA), VENUS LA (CA), and other spaces throughout the USA and Canada. McKenzie currently resides in Los Angeles.

Adrianne Rubenstein (b. 1983, Montreal, QC) received her MFA from the San Francisco Art Institute in 2011. She lives and works in New York. Her curatorial projects include work with Night Gallery and Venus in Los Angeles, Stems Gallery in Brussels, Belgium, Fourteen30 Contemporary in Portland, OR, and Brennan & Griffin, Regina Rex and CANADA in New York, NY. Rubenstein has been the Director at CANADA, New York since 2014.
The Pit is pleased to present Adrianne Rubenstein: I Love Worms. An opening reception will be held on September 9, 2018 from 4-7pm, and the exhibition will be on view through October 21, 2018.
In her second one-person exhibition at The Pit, Adrianne Rubenstein will debut a suite of new paintings, which are some of her largest to date. Working in oil on panel, Rubenstein uses vibrant colors, direct form, and confident brushwork to depict raw memory in paint. Her paintings tell stories from her life, referencing moments from the just past and from long ago. In them, she is just as much a part of the subject matter as whatever it is she is painting, taking steadfast responsibility for her role as narrator. This vulnerability and resistance to neutrality allows Rubenstein to claim nostalgia not as an indulgence but as a powerful lens through which to view her place in and experience of the world.
Rubenstein is equally comfortable referencing art history and art's current moment as she is her catalogue of personal memories. While works like Abstract Painting are a response to present-day trends in contemporary art and her faceted position within her community as a painter, gallery director, and curator, works such as Ladder with Ribbons—an homage to Ree Morton, whose work has been an influence on Rubenstein—refer to art history and her formation as an artist. In her dreamlike yet vivid compositions, Rubenstein's explorations of memory and musings on art emerge as markers of a practice rooted in feminism: the personal is political.
Adrianne Rubenstein was born in Montréal, Canada in 1983 and lives in New York, NY. She received a Master of Fine Art from the San Francisco Art Institute, San Francisco, CA in 2011 and a Bachelor of Fine Art from the Nova Scotia College of Art and Design, Halifax, Canada in 2006. One-person exhibitions of her work have been presented at venues such as Reyes Projects, Bloomfield Hills, MI (2017); Fourteen30 Contemporary, Portland, OR (2017); White Columns, New York, NY (2016); and David Petersen, Minneapolis, MI (2016). Rubenstein's paintings have been featured in thematic and two-person exhibitions including Out of Control, curated by Sally and Peter Saul, Venus Over Manhattan, New York, NY (2018); Permanent Embrace, with Walter Robinson, Stems Gallery, Brussels, Belgium (2018); Say Yes, curated by Kimia Ferdowsi Kline, Elaine L. Jacob Gallery, Wayne State University, Detroit, MI (2017); Feed the Meter I & II, Ceyson & Benetiere, Luxembourg (2015 & 2017); and Bunnicula, with Jennifer Sullivan, Marvin Gardens, New York, NY (2016). Rubenstein is an active participant in the international community of artist-run spaces and artist-driven curatorial initiatives, and she was awarded the Emerging Artist Grant from the Rema Hort Mann Foundation in 2016.
Still Big, curated by Sun You
Tiger Strikes Asteroid, New York
September 14 - October 14
Opening reception: Friday, September 14th, 6-9pm

Tiger Strikes Asteroid New York is pleased to present Still Big, curated by Sun You. Still Big is a group exhibition inspired by 17th century Dutch Still-Life paintings. These works broke away from the use of religious subject matter to depict secular objects like flowers, food, and bones in domestic interiors. These paintings explored quotidian reality as well as larger themes of life and mortality.
In Still Big, paintings, photos and sculptures are arranged on or around tables designed by NY-based furniture designers. These contemporary tableaus employ surprising juxtapositions to evoke erotic, gustatory and optical pleasures as well as poignant allusions to human frailty.
Artists:
Priscilla Fusco, Ethan Greenbaum, Kira Nam Greene, Eric Hibit, Myeongsoo Kim, John Newman, Sarah Peters, Chelsey Pettyjohn, Adrianne Rubenstein, Roger White, B. Wurtz, Crys Yin
Designers:
ERICKSON AESTHETICS, Miduny, Moving Mountains, PHAEDO
The Forest Floor
August 10, 2018 - September 8, 2018
COOPER COLE, Toronto, Canada
Adrianne Rubenstein
OUT OF CONTROL
curated by Peter + Sally Saul
June 28 – August 10, 2018
Opening: Thursday, June 28th, 6:00 – 8:00 pm
VENUS OVER MANHATTAN
980 Madison Avenue
New York, NY 10075
FEATURING: Nina Chanel Abney, Polly Apfelbaum, Joe Bradley, Tom Burckhardt, Kathy Butterly, Sarah Carpenter, R. Crumb, Roy De Forest, Carroll Dunham, Eric Fischl, Jason Fox, Tamara Gonzales, Joanne Greenbaum, Mark Greenwold, Silvester Hustito, E'wao Kagoshima, Betsy Kaufman, KAWS, Cary Leibowitz / Candyass, Chris Martin, Gladys Nilsson, Thomas Nozkowski, Jim Nutt, Erik Parker, Elbert Perez, Joyce Robins, Adrianne Rubenstein, David Sandlin, Katia Santibañez, Peter Saul, Sally Saul, Dana Schutz, Arlene Shechet, James Siena, Robert Storr, William T. Williams, Karl Wirsum
CHIMERA
Hanna Eshel, Rainen Knecht, Emma Kohlmann, Diana Lozano,
Jillian Mayer, Bridget Mullen, Adrianne Rubenstein and Katie Stout.
March 2 – April 15, 2018
Click to download full press release.


Friends for Puerto Rico is an auction organized with Paddle8 to raise funds towards immediate and long-term hurricane relief in Puerto Rico. Proceeds from this auction will support two efforts: The Hurricane Maria Community Relief & Recovery Fund, which provides aid to communities hit hardest by the storm, and El Serrucho, an emergency grant program established by BetaLocal to support artists and cultural workers inPuerto Rico.

Featuring works by:
Marina Adams, Polly Apfelbaum, Katherine Bernhardt, Michael Berryhill, Dike Blair, Strauss Bourque-LaFrance, Katherine Bradford, Joe Bradley, Sarah Braman, Nancy Brooks Brody, Carlos Rolón/Dzine, Amy Feldman, Keltie Ferris, Jason Fox, Al Freeman, Amanda Friedman, Giovanni Garcia-Fenech, Joanne Greenbaum, Marc Hundley, Marcus Jahmal, Xylor Jane, Robert Janitz, Elisabeth Kley, Marcus Jahmal, Jennie Jieun Lee, Jose Lerma, Stuart Lorimer, Joanna Malinowska, JJ Manford, Eddie Martinez, Luke Murphy, Margaux Ogden, Angel Otero, Sara Greenberger Rafferty, Adrianne Rubenstein, Tariku Shiferaw, Josh Smith, Peter Sutherland, Rafael Vega, Stanley Whitney, & Wallace Whitney
L'INCONNUE AT ART TORONTO | BOOTH V03 | OCTOBER 27-30, 2017
Brian Kokoska,
Larissa Lockshin,
Alex Morrison,
Athena Papadopoulos
& Adrianne Rubenstein
"Say Yes"
Elaine L. Jacob Gallery
Detroit, MI
April 7 - July 14, 2017
Marina Adams, Ivin Ballen, Yevgeniya Baras, Michael Berryhill, Katherine Bradford, Sara Bright, Susan Carr, Derrick Alexis Coard, Hannah Rose Dumes, EJ Hauser, Mary DeVincentis Herzog, Matt Kleberg, Kimia Ferdowsi Kline, Emma Kohlmann, Sadie Laska, Robert Nava, Matt Phillips, Adrianne Rubenstein, Peter Shear, Jason Stopa, Andrew Tarlow, and Rachel Mica Weiss.
Bella Foster "Food of Light" at CANADA, New York, Feb 3 - March 12, 2017
Bruise
Facundo Argañaraz
Peter Bonde
Ry David Bradley
Chris Hood
Alex Ito
Adrainne Rubenstein

November 4 - December 3, 2016
Bricks are Heavy
Elizabeth McIntosh
Thursday, September 8th — October 23re, 2016
Opening Reception: Thursday September 8, 6-8pm
OUTSIDE
curated by Matthew Higgs
Saturday, September 3rd — September 25th, 2016
Opening Reception: Saturday September 3, 6-8pm
PARTICIPATING ARTISTS:
ETEL ADNAN, AARON BIRNBAUM, PEARL BLAUVELT, ROBERT BORDO, DAVID BYRD, BRIAN CALVIN, JAMES CASTLE, JANE CORRIGAN, ANDREW CRANSTON, VERNE DAWSON, LOUIS M. EILSHEMIUS, EMBAH, TOM FAIRS, ROCCO FAMA, BRUNO DEL FAVERO, JEFF FUNNELL, MAUREEN GALLACE, PAM GLICK, RAY HAMILTON, DANIEL HEIDKAMP, JOHN HILTUNEN, MERLIN JAMES, CHRIS JOHANSON, CHRISTOPHER KNOWLES, NATE LOWMAN, BILL LYNCH, DWIGHT MACKINTOSH, NOEL MCKENNA, MARLON MULLEN, ANNIE PEARLMAN, HELEN RAE, AURIE RAMIREZ, JESSI REAVES, TYSON REEDER, ADRIANNE RUBENSTEIN, SVEN SACHSALBER, WILLIAM SCOTT, SPENCER SWEENEY, DANNY THACH, WILIAM TYLER, MATTHEW WONG, JOSEPH YOAKUM
FORT GREENE
Venus Los Angeles
Saturday, September 17th — October 29th, 2016
Opening Reception: Saturday September 17, 6-8pm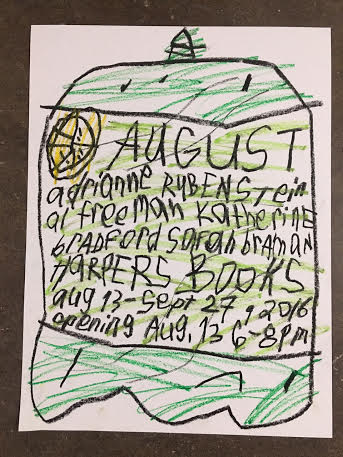 August
Harper's Books
August 13 - September 27, 2-16
87 Newtown Lane, East Hampton NY 11937
We Like Explosions
The Pit
August 6th - September 11, 2016
918 Ruberta Ave, Glendale CA 91201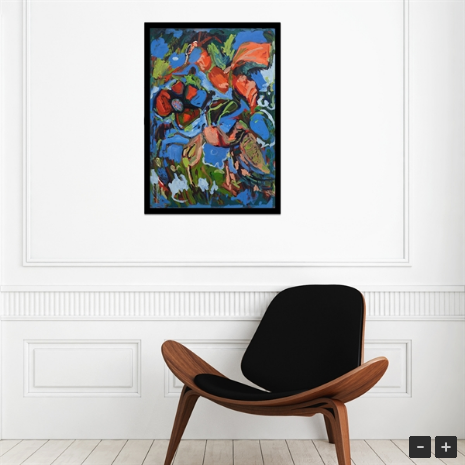 Exhibition A: Limited Edition Print
"Honeybees in Corn Flowers", 2016
Proceeds donated to Materials for the Arts
X - Betty Tompkins, Adrianne Rubenstein, Al Freeman, Mira Schor, Miriam Laufer, Mimi Smith, Anna Rosen, Alicia Gibson, Lauren Faigeles, Susan Bee, Rebecca Watson Horn, Dakotah Savage, Katrina Fimmel, Rebecca Levitan, Leslie Stein, Annette Wehrhahn
July 8 - August 12, 2016
Opening Reception: Friday July 8, 6-8pm
www.lylesandking.com
Adrianne Rubenstein
White Columns, New York
Saturday, June 4th — Saturday, July 16th
www.whitecolumns.org
Frieze New York
May 5-8th, 2016
Organized by Katherine Bernhardt
www.canadanewyork.com
Frog in Fence
Halsey McKay, East Hampton, NY
Saturday, April 9th — Sunday, May 8th
www.halseymckay.com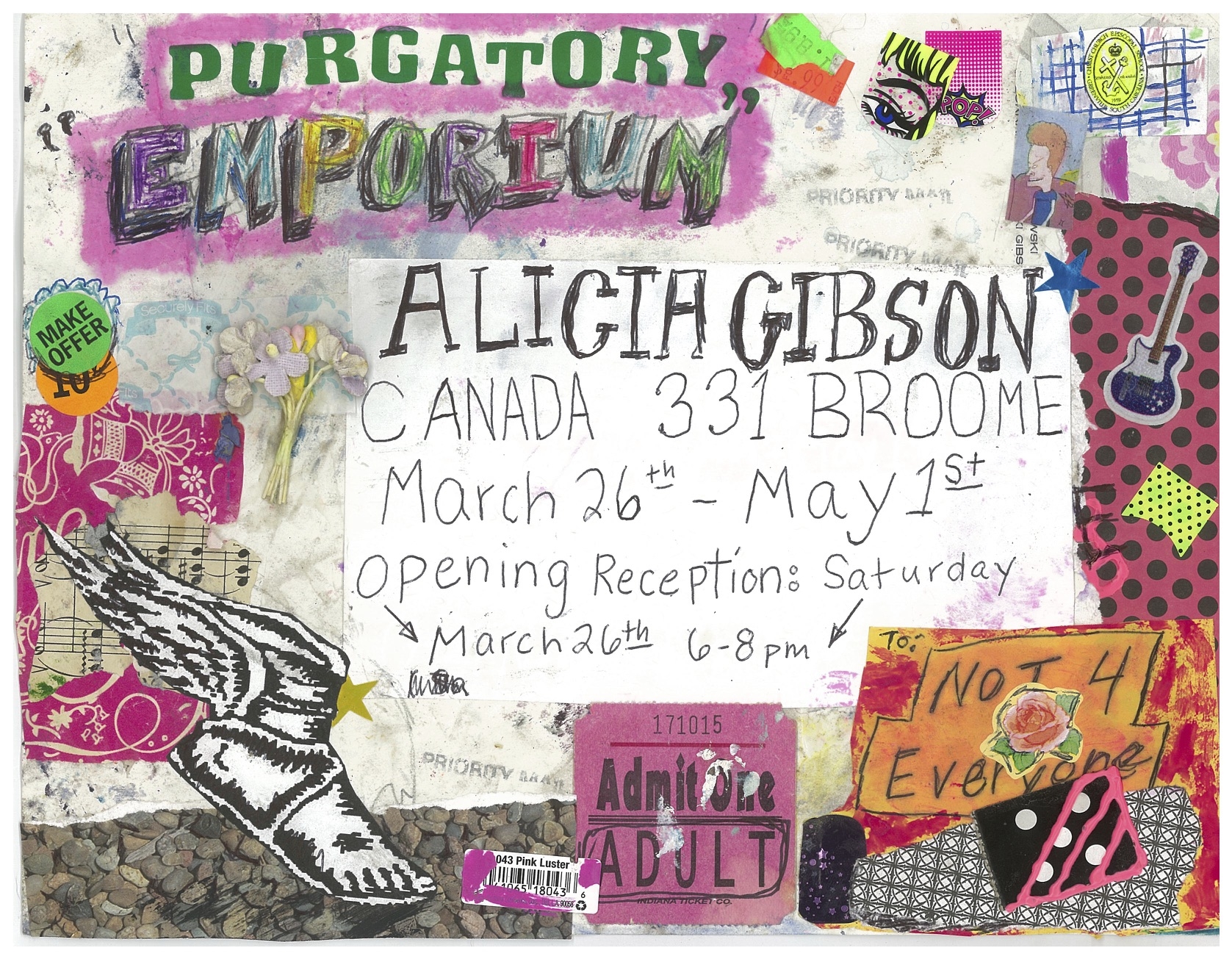 Alicia Gibson
Purgatory Emporium
Saturday, March 26th — Sunday, May 1st
Opening Saturday, March 26th 6:00 — 8:00PM
CANADA
www.canadanewyork.com
A Short Story
Al Freeman, Chris Hood, Monique Mouton, Adrianne Rubenstein
Saturday, February 27th — Saturday, March 26th
Opening Saturday, February 27th 6:00 — 10:00PM
FIELD CONTEMPORARY
17 West Broadway, Vancouver
www.field-contemporary.com